Esther Bancel is a Cabinet of Curiosities
Esther bancel is a unisex tailoring maison. It takes inspiration from early 20th century costume and the Cabinets of Curiosities. Each Esther Bancel creation reinterprets elegance, offering a conflict between savoir-faire and avant-gardisme.
"Through my creations we explore the duality and fragility of all things in the hope of enhancing them. When some see darkness, we prefer to see poetry and romanticism."
Esther Bancel is not just a clothing brand, but also a different point of view on the way we consume. In order to achieve that, the brand had to get rid of some bad habits: no season, no calendar, no collection… They keep their own rhythm!
All of the pieces are made in France, made-to-order (without stock) and in limited series, putting quality, transparency and durability at the heart of their values.
The duo is committed to creating more than a brand, their own modern Cabinet of Curiosities, where everyone is invited to wander and experiment, in the middle of roses, skulls, insects and singular beauties but always with elegance…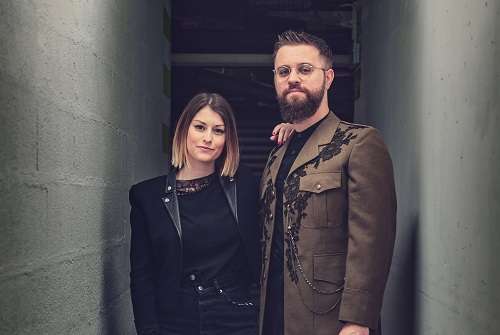 Esther Bancel represents New French designer genderless fashion
Esther and Morgan, the founding duo and married couple behind the Parisian label of high-end tailoring.
"when some see darkness, I often see poetry and romance".
originally from Lyon and now a Parisian by adoption, I have always been an artistic thinker about what is most fragile in us and how we can poetise and sublimate it.
all this creates a kind of conflict in my creations. the conflict between the darkness and the sometimes invisible poetry that surrounds it.
The founders of the brand choose a way of developing things on a bigger scale, a movement that goes against the grain…