Maison Dressage heartily embraces the principles of slow-fashion, hand-crafting timeless pieces that can be worn throughout the seasons
Inspired by the name of one of the most fascinating and rigorous equestrian disciplines, Maison Dressage probes the contrasting relationship between instinct and discipline, nature and severity, force and elegance.
The Italian brand plays with the ambiguity of accessories nature – simultaneously decorative and restrictive – by designing accessories and bags that function as a sophisticated extension of clothing, tracing lines and geometrical shapes on the wearer's body.
Maison Dressage explores the versatility of natural and resistant materials – vegetable tanned leather, precious textiles, noble woods, raw brass, precious pearls – to create collections characterized by the minimalist elegance of the design and by a strong aesthetic coherence.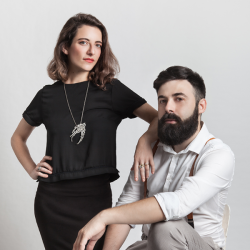 On 12 January 2012 Rosella and Matteo were having a drink and talk about fashion as they often did. Rossella grabbed a napkin, drew a female figure and passed it over to Matteo, challenging him to imagine a minimalist version of a Victorian garment. He added a few elements, gave it back and the exchange went on for some time. When the drawing was finished, they had a structure of a garment that would become brands first harness piece. 
In 2015 Rossella returned to Trieste from Brazil, and Maison Dressage found its home. The brand opened its atelier at the heart of Trieste.