Lako Bukia is a unique label, made for women who want to express their individuality and stand out from the crowd, but also love timeless, high-quality art pieces.

Lako Bukia launched her luxury label shortly after graduating from London College of Fashion, and has since been shown on various international runways and numerous showrooms, such as London Fashion Week as various catwalks and showrooms in Paris, Berlin, and Kiev.
The brand focuses on extravagant shapes and also specializes in unique use of colors and fabrics, mainly created by digital printing. Fabrics are usually sourced from several different countries and sometimes even from several continents. In every collection, the brand uses prints derived from the designer's own photographs, usually taken during her travels or while exploring her common surroundings.
From the S/S 2020 collection on, the brand doesn't work with leather anymore and has become animal friendly. 
Natia x Lako
Georgian designers Natia Khutsishvili and Lako Bukia teamed up to launch their jewelry brand. Their creations are handcrafted, inspired by ornaments and shapes, such as snakes, big circles and golden dragons. Nowadays the brand is very popular and loved by many celebrities.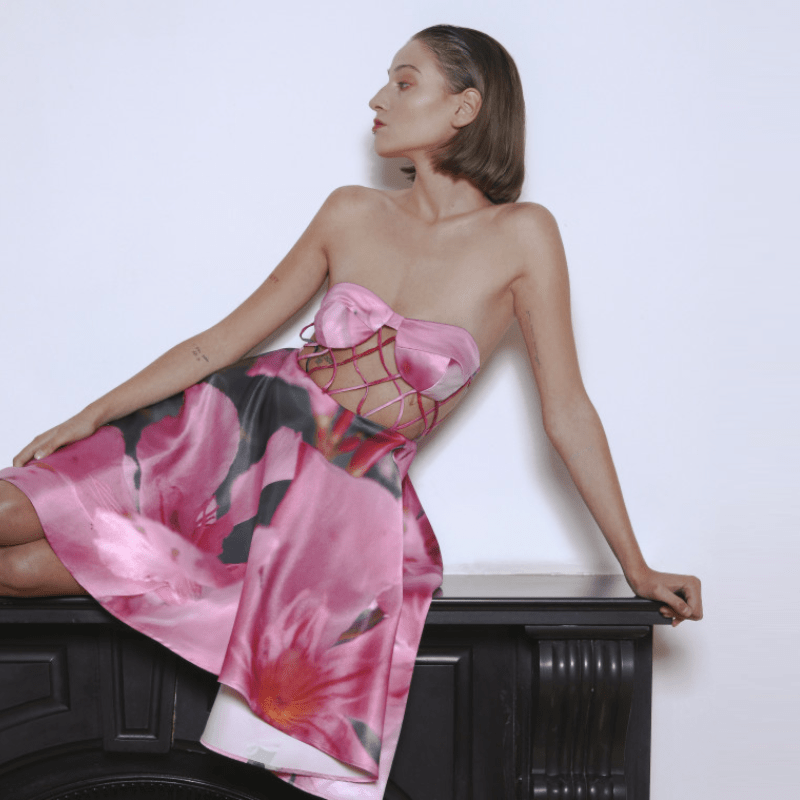 Lako Bukia was born in Tbilisi, Georgia. She did her first BA at A. Kutateladze Tbilisi State Academy of Art, where she graduated with a BA in Fashion and Textiles Diploma. After graduation Lako went to London and did a second BA at the prestigious London College of Fashion specializing in Womenswear. Meanwhile, she started her own luxury label LAKO BUKIA.
In 2012 Lako opened her boutique in Tbilisi, Georgia The same year Lako moved to New York to do a Master's Degree at Parsons, The New School for Design. In the summer of 2014 she successfully graduated from the MFA and moved back to Georgia.